Leading African financial institution, Fidelity Bank PLC, has announced the second set of millionaires in its Get Alert in Millions Season 5 promo (GAIM 5) which held recently in Victoria Island, Lagos.  
The event was witnessed by representatives of regulatory organisations which include: Ms Oyinkan Kusamotu, Senior Legal Officer, Lagos State Lotteries & Gaming Authority; Mr Tanko Mohammed, Head, Monitoring & Enforcement, Lagos State Lotteries and Gaming Authority; Mrs Susie Onwuka, Head, Lagos Office, Federal Competition & Consumer Protection Commission (FCCPC) and Ms Chioma Amanoh, Lagos Office, National Lottery Regulatory Commission (NLRC).
Since the commencement of the fifth season of the promo in November 2021, the bank has enriched over 460 customers with various cash prizes. So far, 10 lucky customers have been rewarded with a million naira each. This month, Fidelity Bank has continued its tradition of rewarding loyal customers which has seen Ajoma Rachel, Stanley Sunday, Musbahu Kabiru, Usman Abdulkadir, John Uchechukwu, Oluwatayo Oladipupo, Esther Eloho, Sophia Sefera, Amarachi Sarah Anyacho, and Obi Chinelo emerge as the next set of millionaires in the promo.
Commenting on the event, Dr. Ken Okpara, Executive Director overseeing the Bank's Lagos and Southwest Directorate, stated that, "As a bank that places our customers at the centre of everything we do, we are always looking for opportunities to help our customers grow. Two months ago, we kicked off the GAIM 5 promo to reward our customers and demonstrate our commitment to improving their lives and wellbeing. Today, we are excited at how happy we have made some of our most loyal customers. We remain committed to providing rewarding experiences and best-in-class services for our clients."
Also speaking at the event, the Divisional Head, Product Development, Osita Ede stated that: We have earmarked the sum of N125million for total cash rewards this season which we would be giving out in weekly, monthly and grand draws till the campaign ends in July 2022. We encourage our customers to save up to increase their chance of winning and those yet to open an account to do so today. At the end of the campaign season, we want to celebrate customers who make savings second nature.
Fidelity Bank is a full-fledged commercial bank operating in Nigeria, with about 6million customers who are serviced across its 250 business offices and digital banking channels. The bank is known for exceptional customer service and digital innovation.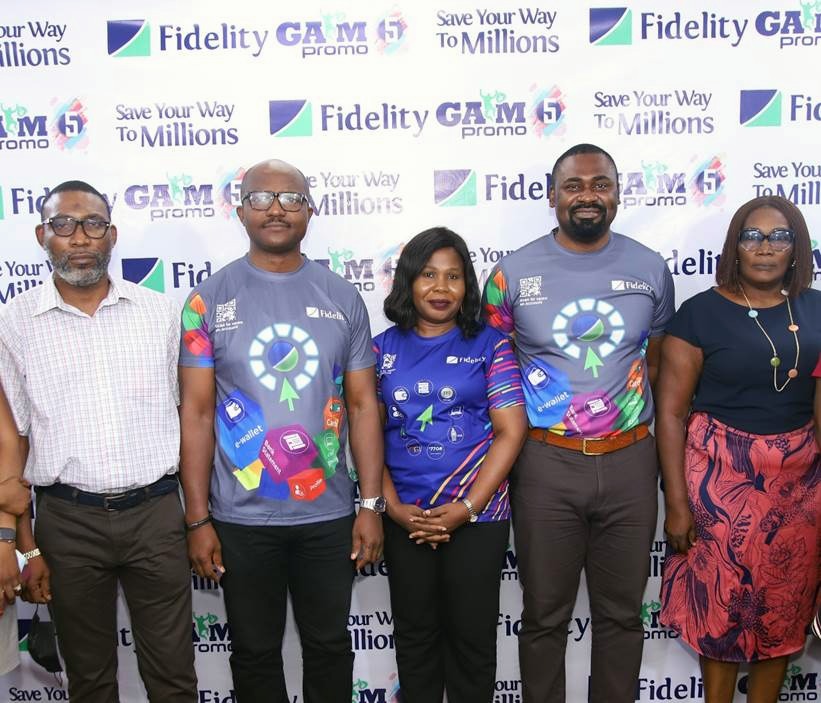 Fidelity Bank Wins Best SME Bank Nigeria at Global Banking & Finance Awards 2022
Fidelity Bank Plc, has been announced as the 2022 Best SME Bank in Nigeria by the Global Banking & Finance Review at its Annual Global Banking & Finance Awards which held in London, UK recently.
Global Banking & Finance Review is the leading online, digital, and print magazine for the banking and financial sector. The website receives over 7 million page views each year thanks to its balanced views and informative, independent news centered on the financial sector. The Global Banking & Finance Awards was created to recognize companies of all sizes that are prominent areas of expertise and excellence within the global financial community.
"Global Banking and Finance Review is privileged to honor those financial institutions that have achieved outstanding results and who stand out in their particular area of expertise in the banking and finance industry. Global Banking & Finance Review would like to congratulate the award winners and look forward to their continued success.
"The awards were created to recognize companies of all sizes that are prominent in particular areas of expertise and excellence within the financial community. They reflect the involvement of leading financial organizations and recognize the accomplishment, achievement, innovation, strategy, and progressive and motivating changes taking place within the financial sector", reads a statement on the Global Banking and Finance Awards website.
Commenting on the award, MD/CEO Fidelity Bank Plc, Mrs. Nneka Onyeali-Ikpe said, "We are grateful for this recognition and dedicate the award to our customers who rely on us to provide the right support for scaling their business. Receiving this award at the beginning of the year, provides us with increased motivation to do more in helping our clients achieve their strategic business goals."
Fidelity Bank is a full-fledged commercial bank operating in Nigeria with over 7.2 million customers serviced across its 250 business offices and digital banking channels. The bank was recently recognized as the Best Private Bank in Nigeria and Best Private Bank Digital Solutions for Clients in Africa in the Global Finance's World's Best Private Banks 2023 Awards; as well as the Best Commercial Banking Brand in Nigeria by the Global Brands Magazine Awards. The bank has also won awards for the "Fastest Growing Bank" and "MSME & Entrepreneurship Financing Bank of the Year" at the 2021 BusinessDay Banks and Other Financial Institutions (BAFI) Awards.
Buhari Will Commission Dangote Refinery Before May 29 -Dangote Group
The attention of Dangote group has been drawn to some misleading reports regarding the commissioning of its Dangote Refinery during the present working visit of President Muhammadu Buhari GCFR to Lagos State.
In a terse statement signed by the Group Chief, Branding & Communications Officer, Dangote Industries Limited, Mr Anthony Chiejina, the Group averred that "We want to state categorically that our 650,000 barrels per day (bpd) Refinery project was never part of the President's programme on projects to be commissioned.
"For the record, the projects slated for commissioning in Lagos State by President Muhammadu Buhari GCFR include: Lekki Deep Sea Port; 32-Metric Tonnes Lagos Rice Mill, Imota; 18.75km Eleko to Epe T Junction Express road; John Randle Centre for Yoruba Culture and History, Onikan, Blue Line Rail (Phase 1) commissioning (Marina to Mile 2); Groundbreaking for the Blue Line Rail Phase 2 (Mile 2 to Okokomaiko), and MRS Lubricant, a private project in Apapa.
However, our Refinery will be commissioned before President Muhammadu Buhari GCFR formally leaves office in May, 2023, and the public will be duly informed and invited to the epic event."
Before this statement today, Business Hilights recalls that there had been a fake news in an unverified twitter handle saying President Buhari will among other things commission the refinery which the company debunked and described as fake.